Roof Maintenance and Custom Painting Service Across Tampa and Chattanooga
Get more than what you bargained for from Pro-Kleen Systems. We offer custom painting in Riverview, FL, that will improve the look, strength, and value of your property. We are your home improvement specialists. Our team provides bonus programs and additional services that will enhance the appeal of your investment.
Cleaning Services by an Experienced Team
You deserve a property that looks great and will last a long time. To that end, we offer cleaning services.
Roof Tile Painting and Clear Coating:
When you are ready to give your home a new look; we will apply new paint to your roof tiles. Clear coating is also available if you prefer your tiles' original look.
Brick Paver Restoration and Sealing:
Clear pathways leave a better impression. We can remove the dirt, mold, and buildup from pavers. Sealing also adds protection from the elements.
Interior and Exterior Painting:
Revitalize old surfaces with new paint. Our experienced team will give your home a new look—all according to your schedule.
Learn More >>
Roof Maintenance:
Your roof is your property's first line of defense against the forces of Nature. Our experienced team will clean your roof so it may perform better, for longer.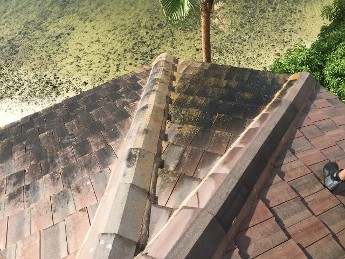 Fungicide Programs
Our property maintenance company makes sure you receive service that meets your needs. We offer six-month fungicide maintenance programs for all of our existing and future clients.
Mold and mildew makes roofing and siding appear unsightly, and their continued presence can actually damage the surfaces of your property. Our team utilizes tough cleaning solutions and heavy-duty equipment to maintain the proper appearance of your home. With routine service, your home will look clean and presentable all year long.
Awesome Rates
With the quality of roof maintenance services that we provide, your satisfaction is guaranteed. Please take note that bills must be paid in full when using eCommerce.
Contact us in Riverview, FL, for house painting and brick paver restoration work. We are pleased to serve the surrounding area.
The Team to Trust for House Painting in Riverview, FL
Giving your home fresh style is easy with help from Pro-Kleen Systems. Our house painting services in Riverview, FL, let you update both interior and exterior spaces with new color or a vibrant coat that brings out the best in the surrounding décor. Whether you want to change things up or erase wear on your old paint, we have your home covered.
Offering professional results and a customer-focused process, we make sure to translate your vision into every square inch of color. When you choose us, you get durable paint and expert application that ensures your new look lasts long after our team leaves. Plus, we work with you to make sure that the finished results deliver on the one thing that defines our business most — simple, reliable quality.
Versatile Painting Options
Because we provide both interior and exterior painting, you can always trust that our team has the skills to get your project done. This is especially important for projects that involve both indoor and outdoor spaces because it means consistent results in every area we paint. No matter where you need an updated look, count on us to provide complete satisfaction.
For exterior projects, we focus on maintaining visual appeal and protecting your home against the elements. One aspect of paint that's often overlooked is its ability to stand up to things like wind, water, and UV rays, protecting the material beneath it. Our professional painters make sure that all those pressures meet a coat that's as durable as it is beautiful.
When you need indoor paint, aesthetics are everything — but it's not just about picking a color. You need results that bring out the best in your surrounding décor and create a comfortable backdrop that showcases style and sophistication while still feeling personal and intimate. For that, trust our team to take your chosen color and paint with precision that's perfect for everything from the bedroom to the kitchen.
Top-Notch Service on Your Schedule
We pride ourselves on our paintwork, but we also believe that your experience is just as important as our results. That's why we emphasize professionalism, promptness, and the flexibility to work with your schedule for the duration of the painting process. In addition, we deliver a range of other services that let you enjoy the home of your dreams.
As a go-to steam cleaning business, we offer top-to-bottom care for all your favorite features. We even cover some commercial spaces! Find out what our team can do for your property by speaking with us today.
Contact us to request a painting service appointment. We proudly serve Riverview, FL, and the surrounding areas.